So, I recently went to Banff. (Alberta.) (Canada.) It's in the Canadian Rockies. And it's always cold. There's glaciers and stuff.
To get to Banff, we had to drive on the TransCanada highway (rte 1) from Calgary. There were lots of cows on the way.
There are glacial lakes there, which means that the water is really blue. Here's Kara next to one of them.
Not only is the water blue, but it's very clear, too. Chewie took these pictures, by the way. I'm streamlining them for you. Be thankful that I got rid of all the squirrel pictures
and the video of the squirrel standing still
.
There's mountains everywhere. And they all have snow at the tippy tops. Luckily for us, there was a heat wave, so it was warm enough for T-shirts if you sit in the sun long enough. And we did.
Here's an action shot of 2/3 of our lab's Banff contingent. It's supposed to be kind of an action shot, y'see.
We each had a poster to present at the meeting. Kara found an alternate use for hers.
It turns out there are lots of uses for posters.
But it wasn't all sun and fun. We also went to see talks about science and stuff. And we became posessed by the devil, too.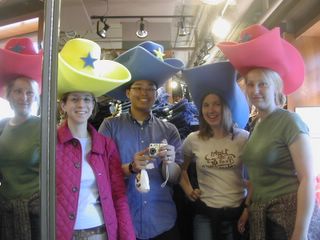 And we tried on funny hats.
But mostly, we napped in the sun.